Feedback Wrap up
23 Aug 2017 20:47
-
24 Aug 2017 02:48
#1
by FI-EldonK
FI-EldonK ► Feedback Wrap up
Good Day Students,
We would like the thanks everyone for the feedback everyone gave at GenCon 50 again. We have now met and gathered all of our feedback into one compiled list and boy what a list. Here are the images of our whiteboard below.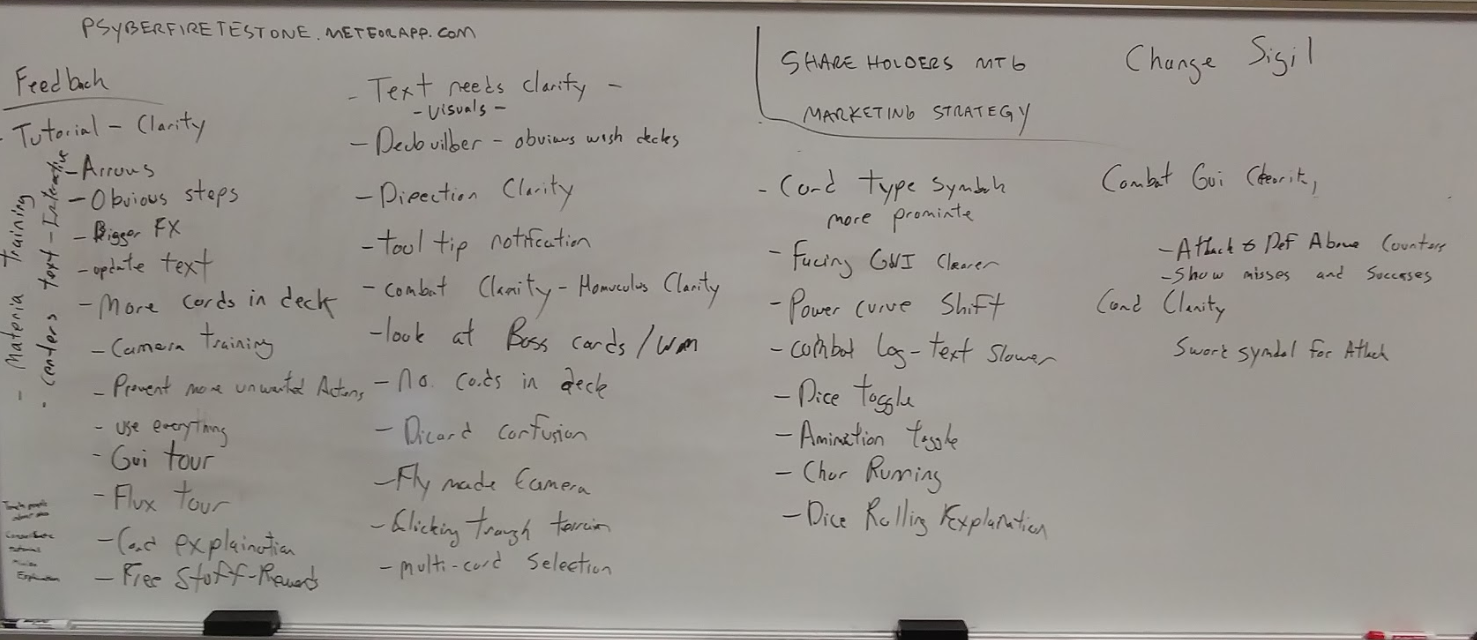 Sorry if my chicken scratch isn't legible, here is a written more organized version of the feedback.
Feedback
Tutorial
Make Steps more obvious

Bigger Effects to show what to do

Update Text

More Cards in Deck

Camera Training

Prevent more unwanted Actions

GUI Tour

Flux Tutorial

Card Explanation

Free Stuff at end of tutorial
Materia Cards

Materia Card Training - Homunculus Usage and creation and Flux Clarity

Materia Card notation (logo) thumbnail - Type Dark/Light Symbol in Card Expansion

Materia Abilities Clarity (Balance Issue?)

Need base Homunculus - Predeck
Add more visual reinforcement for Card types

Card Type Symbols Prominent
Deck Builder Remap

Wish Decks
Character Facing Clarity

Facing GUI Cleaning
Combat GUI

Add GUI For Attack/Defence Above +/-

Die Allocation during Combat GUI More Clear

Combat Log (text Slower) - New Feature

Combat GUI Clarity - Symbols for Attack Dice ("Sword")

Attack/Defence above Counters
Pack opening Cleanup (Sounds, Effects & Animations)

Pack Opening needs to show Data on materia card

Adjust pack opening algorithm - William Wallace Effect, Trip Wire

Hover - Tooltip Notification - Beginning of Matches - Option to turn off

# Interactive Bertold # Add Animations or panels
Misc

Boss Card & Wandering Monsters Clarity - Ability to see Boss/wm Abilities and actions

Discard Clarity

Clarity Number of Cards in Deck

Power Curve shift (Indentured Servant & Fire Imp - 3 Cost)

Animation Toggle

Character Running - Speed Tweaking

Fly-mode camera

Card stacking selection viewing

Clarity on Dice Rolling ( Explaining) Show Success & Fail dice state

# dice rolls vs. active dice

Ability Listing During Play Phase

Glyphs Redesign (Passable play - access) (Right-Click Select Attack Access)

Deck Builder Allocation Stats - types, casts, polarity

Ability clarity on board

Effects on card clarity

Red Twins Bug-fix cast scrap cost not remove looping problems

Redesign Chaining

Visual Effects Needed

Summoning sickness added to Basic Lands

Rebuild Starter Decks (4 Decks)

Show actual card casting animation ( Hand to Board)

Error message name Homunculus

Animation Cleanup

Soul Reaper interface made easier

Prebuilt Tournament Deck Inexpensive

Booster Box Store

Remove old Store Card Art

Polish * Attention to Details*

Quest System -

Lobby Updates

Include FOIL art

Rasputin Fix

TriColored Allocation Die

Effects on Player GUI - add Animations

Elemental Graphic Update

Elemental Die Fix Explain/Clarify Tutorial

Camera GUI Fix

Revamp Boss AI - Own deck of cards of actions - Reactionary

Wandering Monsters consumed by Spawn of Penris

Store Items reduce size 25% - 50% - Two Column User Friendly Scrollbar

Bog Slave Need Update

Backer Assets - Redeemer Code Dice/Homunculus… Update

Animation Cleanup

Death - Card changes color with minion model

Companion App!!!!
Look forward to seeing these get implemented in future updates as we move forward. Some will come sooner then later and others will have to wait until the system that they attached to gets updated but everything is getting done! If you have more feedback, feel free to comment on this thread with anything that's popped into your head. Thank you again from everyone on Visions of Zosimos.
Please Log in or Create an account to join the conversation.